Professionally drawn floor plan is a great marketing tool that always impresses potential buyers. We create clear and accurate Marketing Floor Plans for real estate professionals, builders, property managers, designers, and contractors.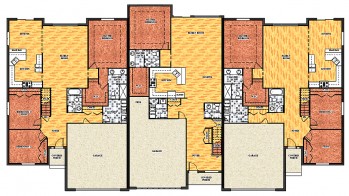 We convert your sketches or existing architectural plans, blueprints, working plans into easy to read presentation style Floor Plans.
We offer: 
Different styles of floor plans. Affordable prices. Quick turnaround. We deliver your floor plans within 2-4 business days. 
For the best result we can integrate a real estate floor plan with the color 2D Elevation Rendering or 3D Exterior Visualization. This combination will help you to provide a clear representation of your property for both sellers and prospective buyers.
The Price for Marketing Floor Plans Service depends on various factors: type of floor plan (2D or 3D), the size of the property, type of graphic (monochrome, color, textured), addition of extras such as furniture, landscape, etc.
How it works: Send us your sketches or blueprints via email at This email address is being protected from spambots. You need JavaScript enabled to view it. in any format (CAD, PDF, JPG, GIF, PNG, etc.) and we'll turn them into print & web-ready floor plans for real estate marketing. Floor Plans can also be customized to include individual or company branding. Get your marketing Floor Plan in 2-4 business days in various formats depending on your needs (PDF, JPEG, GIF).
2D Floor Plans
Black & White Floor Plans - from $50/level
Black and White Floor Plans will show you property interior layouts with a clean simple look. We will re-draw the plans from your CAD and PDF files with only the necessary lines and elements, remove dimension lines and make them clear and concise. These floor plans can be used on websites, printed brochures and flyers.
Color Floor Plans - from $70/level
For visual impact we provide the Color Floor Plans. You can choose to add custom background colors to the floor plans. Assigning colors to individual rooms makes it easy for home buyers to visualize different areas and understand the layout of the property.
Color Floor Plans with textures and materials - from $90/level
This type of marketing floor plans is ideal for brochures and flyers. Textured Floor Plans provide full textured renders of all property areas. We apply real life materials and textures to the different surfaces such as floors, walls, grass, plants, water. We can add furniture and landscaping to the floor plan and increase details.
3d Floor Plans
3D Floor Plans help the clients to see the whole house from above. All 3D floor plan renderings are created as 3D models with to-scale furniture and  real life materials. 3D floor plans allow your clients to visualize the interior of the project in a way that a 2D floor plan cannot.
Contact us by e-mail:
This email address is being protected from spambots. You need JavaScript enabled to view it.
Here are the several reasons you need to start using floor plans for real estate marketing. Real Estate Floor Plans help to sell your home faster. Using clear and accurate marketing floor plans will allow you to give your clients the complete picture of a property. Buyers can see the layout visually and start planning where to put their furniture when they move in. Also, Marketing Floor Plans make listings stand out and create a visual impact. Listings with floor plans have been shown to get more viewings and faster bookings than those properties without. In addition, floor plans are a highly-effective marketing tool. Using real estate floor plans you can market your property in all available media and increase your opportunities for making a sale. So, it is clear that floor plans are becoming increasingly important in the marketing of properties and that they provide a real advantage to sellers.
Read more: